763.478.6661
 Medina Entertainment Center's Full Service Catering offers the finest freshly prepared menu, combined with our professional service staff and full beverage options. Host your event in one of our 3 Private Spaces, The Plymouth Creek Center or at a venue of  your choice. Your next event will be memorable for every guest!
Medina Entertainment Center's Executive Chef Trent Anderson is a highly trained, talented and creative chef who has mastered the art of creating fine dining options that can be prepared and served quickly at off-site locations while maintaining the high quality you expect!
The amount of repeat business we see is a mark of our success. Time and again we hear from our customers that their event was the best they have ever had. Contact us today and find out how Medina Entertainment Center can help in making your next event a success too!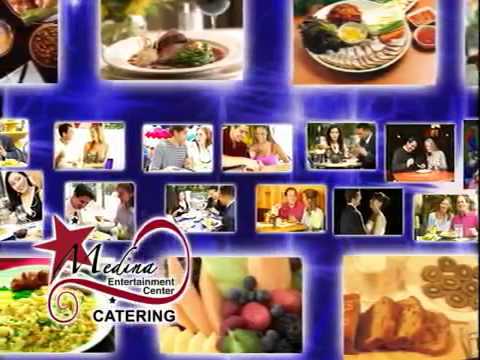 CLICK HERE to take a trip through some of Medina Entertainment Center! Take a virtual tour of our 3 private party rooms and Robert's Restaurant and Bar! 
The Grand Ballroom
Accommodates 100 to 1,600 guests, with three Full Service Bars, 6,500 square foot dance floor, stage and concert quality sound system. With 22,000 square feet this space is very versatile and can be made into a more intimate space if desired. 
The Party Rooms 
This space can be divided into 3 smaller rooms or used as one larger room, accommodating 10-250 guests. This room also features a built in stage and dance floor and has the ability to include Full Beverage Service!
Images Room
This space offers a full built in bar, private patio, stage and dance floor accommodating 10-150 guests.  
Robert's Restaurant and Bar
Featuring delicious dining and drink service and semi-private spaces. This is a very cost effective way to hold your event and still enjoy great food and service!
Medina Lanes and Game Room
The perfect addition to any party! There is many options for adding bowling and games to your next event and everyone loves bowling! Medina Lanes is a 12 Lane Bowling Center right next to Robert's Restaurant and Bar and very close to all 3 private rooms. The Full Banquet Menu or Robert's Restaurant and Bar menu are both available for service in Medina Lanes.
Live Entertainment
There is always great Live Entertainment coming to the Medina Entertainment Center! Be sure to ask your Event Coordinator about adding concert or dance tickets to your next event! View our Upcoming Concert and Events Calendar
Contact one of our Event Consultants at
763-478-6661, Catering@MedinaEntertainment.com or fill out the form below.
Ask About Adding A Room! Right Next Door At The Medina Inn